How To Pick Up Women's Sports Bra Correctly
By:Bory Wang
Date:2022/06/10
Sport bra set is the necessary and important in women's almirah, with the changing trend of The Times. But many women don't know what the size is & even don't know how to measure their own size. They are often confused how to choose the bra in the purchase of it. So, how do women measure their breasts? How do you know what is your sports bra size? Below, allow me to answer it one by one for you.
Sport Bra Size Comparison Table
Sport bra is our body clothing. The size of underwear will directly affect the comfort of our clothes and the comfort level of exercise! Wondering about sports bra sizing and how to measure bra size options? A Woman want to know what is the breast size, the first thing to do for her is that she should measure her chest. How to do it correctly? Step by steps as below:
1. Standing Position
Take off your coat and stand straight with your feet together, facing straight ahead.
2. Over-Bust Size
Hold up your breast gently, then put the meter ruler around the bust at the fullest part of the chest, slowly going from loose to tight, but not too tight in the front . At this time, you can measure your upper chest circumference.
3. Under-Bust Size
Using a meter ruler, measure around the rib cage directly under the bust. The tape should be held tight, edge to edge with no space between it and your body. What we are going to get the result is the lower chest circumference size measurement.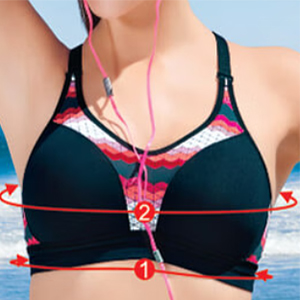 Now, women can know how to measure their breasts. This bra size calculator makes crunching the numbers easy when you need to know how to find a fitting sports bra. Below is a comparison table of sports bra sizes. Women can get their sports bra size by comparing their measurements with the data in the table.
How To Choose A Right Sports Bra
At Unitex Underwear, we believe that there are no bad boobs, just bad bras! It's easier than most people realize to find a great fitting and comfortable sport bra given the right knowledge. As below, we will use simple FAQ to let you know more sport bra.
a

. What is a sports bra and why do I need one ?
Sports bras are not the same as everyday bras, it's a bra that provides extra support to a woman's breasts while she exercises. A sports bra is specifically designed to deliver proper support and comfort during everything from high-impact activities like trail running and mountain biking, to low-impact activities like yoga and hiking. It's made of performance fabrics that can absorb more moisture and prevents chafing during workouts. It's important to invest in a quality sports bra(example women cotton sports bra) so that the connective tissue in the breast are not permanently stretched, and it's more efficient at maintaining support, which is where the benefits come from.
b

.

Why plunk down big bucks for a sports bra ?
Too many of women won't think twice about dropping $5 every weekday on a latte, or $100 plus on a pair of running shoes, but they will balk when it comes to buy a cotton sport bra that costs more than a take-away pizza. We believe a sports bra is an investment not just in good health for your breast, but in our overall health and fitness. Why double up on two mediocre bras to get support when you can have one great one?
c

.

Why get sports bra at Unitex Underwear ?
Yes ,you can buy a "sports bra" from Nike, Adidas and so on, also you can buy from Sporting company. But only in Unitex Underwear company can get you more professional underwear service. Unitex Underwear, we are professional underwear industry and trade integrated supplier, we have the advantage of knowing more about women's breasts, not only provide the ordinary traditional underwear, but also do fashion trend shorts sports bra set. We have professional team of creative designers, trained merchandisers with passions & reliable inspectors, we can also control the quality of goods and delivery time.
d

.

How do you know how much support need ?
In short, the larger the cup size and higher the intensity level of the activity, the more support you'll likely need. So, don't send a low-impact A cup bra to do a high-impact job for a D !
e

. What intensity level is my activity ?
There are three main types of intensity levels: high, medium, and low. As noted under "How do you know how much support need?" the wearer's cup size is an important factor. A /B cup doing a high intensity activity may not need as much support as a C/D cup doing the same activity. The following are some examples of each type of intensity level:
Low intensity level: hiking, weight training, yoga, mat exercise
Medium intensity level: cross-country skiing, vigorous walking/light jogging
High intensity level: running, basketball, mountain biking
In short, Underwear is our most intimate companion, it's important to choose comfortable breathable underwear that suit for us! The status of sexy sports bra underwear in life has become increasingly important. A fitting female sports underwear not only gives you a sense of snug comfort, but also helps you create a unique appearance. In the pursuit of high quality and the pursuit of the perfect body, also need to consider the health of their own situation.
Xiamen Unitex Trade CO.,LTD.
Website: www.unitexunderwear.com
E-mail: [email protected]
Tel: 0086-186 5081 3853
CONTACT US


Xiamen Unitex Trade Co., Ltd.
We are always providing our customers with reliable products and considerate services.
If you would like to keep touch with us directly, please go to contact us