Why is The Sexy Line of Women's Underwear Brands not Working?
By:Bory Wang
Date:2023/03/17
After entering the 21st century, the market has gradually changed, consumers' mentality and aesthetics have begun to upgrade, and sexiness has also been redefined. Comfort has replaced sexiness as the primary factor consumers consider when purchasing underwear. According to NPD survey data, unlike the early 80% of women who purchased underwear because of replacement needs, the purchase frequency of young consumers changes with the launch of new products. Comfort and leisure have become key references for millennial women when purchasing underwear. Factors, this group is easily influenced by the social environment and is willing to try new things and styles. In the consumer society, diversified aesthetics are becoming the mainstream. At this time, the "perfectionist" brand has aroused natural hostility in people's hearts. The final result is that the sales of physical stores continue to plummet.
According to data from market research firm Euromonitor International, Uniqlo's parent company, Fast Retailing, has a share of 20.03% in the Japanese women's underwear market; Five years ago, it was only about 15%, and it is already close to Japan's No. 1 underwear brand Wacoal has a share of 20.11%.
Reasons for Uniqlo's success include its low price -- a set of bra and briefs underwear costs less than 3,000 yen (compared to Wacoal's bras set underwear in Japan, which cost around 4,000 yen). On the other hand, it is in line with the trend of consumers pursuing comfort. Uniqlo's underwear is all without steel rings. In the last quarter, AIRism underwear products, which are mainly breathable and light, became the hero of Uniqlo in the Japanese market. According to the "Nihon Keizai Shimbun" report, the sales of Uniqlo's steel-free sports bra underwear in Japan increased by more than 200% year-on-year.
Uniqlo's best-selling has somewhat challenged Wacoal, which is famous for its star products, even though Wacoal does not regard Uniqlo as an opponent. The addition of brands such as Uniqlo has lowered the average price and market size of underwear in the Japanese market: underwear priced above 4,000 yen has dropped from 35% of the entire market in 1998 to 18% in 2014.
Wacoal is also making adjustments. It will launch comfortable sports bra underwear without steel rings, but it will not move closer to Uniqlo in its entire line of products. Tomoyasu Ito, president of Wacoal, believes: "The sports bra without steel ring is comfortable to wear, but the body line may be damaged in the future."
Similarly, a similar trend has emerged in the Chinese market, with some consumers turning to comfortable breathable underwear instead of traditional push-up underwear. The emerging brand of female sports underwear without rims has become one of the most popular underwear brands on e-commerce. Online, it has maintained a growth rate of 500% for three consecutive years, and its sales in 2017 alone reached 150 million yuan. It is still an upward trend until now, and it continues to expand offline stores.
Not only Uniqlo, but other fast fashion brands are also increasing their underwear product lines, including Topshop, Mango, Forever21, etc. Inditex, the parent company of Zara, is also opening stores for underwear brand Oysho. These brands are more sensitive to the needs of young consumers, and they have launched underwear without rims or thin lace underwear that can be worn outside.
In the US market, the performance of sexy brands (such as Victoria's Secret, etc.) has declined. And its positioning is completely different, the sales of some brands that focus on comfortable underwear are growing continuously.
According to CNBC reports, while some brands that continue to take the sexy line plan to increase new products including casual wear, pajamas, and sportswear, they also add more comfort adjustments to the core category of underwear to attract More young women, and at the same time help the brand win back the old customers.
Comfortable cotton underwear is popular, which is similar to the trend of shoes --- the sales of sports shoes are increasing, and the sales of high-heeled shoes are sluggish. Female consumers pay more and more attention to their own experience, not just good-looking, whether (in the traditional sense) sexy.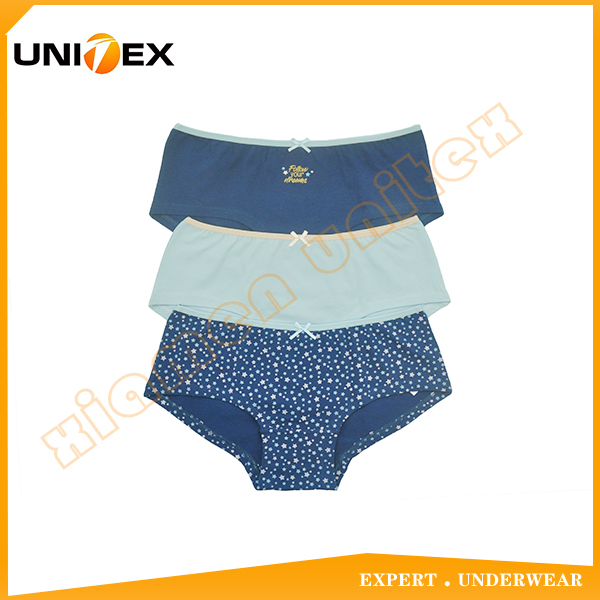 In addition to constantly adjusting from consumption needs, underwear brands also have new strategic planning and implementation. And try to bring strategic investors with many advantages such as capital, channels, and industrial chains.
Obviously, the competition in the domestic intimate clothing market is very fierce at present. Whether it is to feel the pulse of consumers, it is necessary to actively change the product strategy, or to hire competent professionals to assist in the planning and implementation of the group's strategy. Advantageous strategic investors are the bright swords of transformation and competitiveness. Who can stand out in the future deserves attention.
Unitex underwear manufacture trading company is a professional underwear integrating sexy, fashionable and comfortable underwear, and has a high attainment in the underwear industry. If you are just looking for a cooperative factory or supplier, we are one of your best choices.
Xiamen Unitex Trade CO.,LTD.

Website: www.unitexunderwear.com
E-mail: will@unitexchina.cn
Tel: 0086-186 5081 3853
CONTACT US


Xiamen Unitex Trade Co., Ltd.
We are always providing our customers with reliable products and considerate services.
If you would like to keep touch with us directly, please go to contact us