Are Boxer Briefs More Comfortable for Women than Briefs?
By:Teresa Zhang
Date:2023/03/10
The choice of women's underwear varies from person to person, and different women have different preferences and comfort standards. However, for women, boxer briefs and briefs are relatively common styles, and they each have some advantages and disadvantages. Let's analyze the comfort of womens wearing boxer briefs and briefs.
Comfort
Comfort is one of the most important factors in choosing underwear. There are some differences in comfort between boxer briefs and briefs. Boxer briefs are loose-fitting briefs that fit close to the body without being too tight, as opposed to briefs, briefs are more close-fitting, and their lines are more compact.
The loose design of boxer briefs makes them more comfortable than briefs, especially if the body needs to move, boxer briefs hold their place better and don't cling to the body like briefs, making them more comfortable.
Adaptability
Boxer briefs are generally suitable for any type of trousers or skirts because they are designed without creating extra lines or marks. In contrast, briefs are often suitable for close-fitting clothing, as they have a tighter fit that shows more clearly underneath clothing.
Air permeability
Breathability is also a factor to consider when choosing underwear. Since boxer briefs are designed to be looser than briefs, they perform better in terms of breathability. In contrast, under the close-fitting design of briefs, it may increase the local temperature, resulting in airtight or humid conditions.
Breathability is not only considered in terms of style, but also the choice of fabric is very important. Choosing a moisture-wicking fabric for women's boxers is more helpful to avoid skin irritation. Our Unitex range of lingerie for women is made from a sustainable fabric called Modal, which is much more breathable than cotton and has moisture-wicking and chafing-resistant properties. Our women's boxers also contain 5%elastane, making them stretchy and comfortable.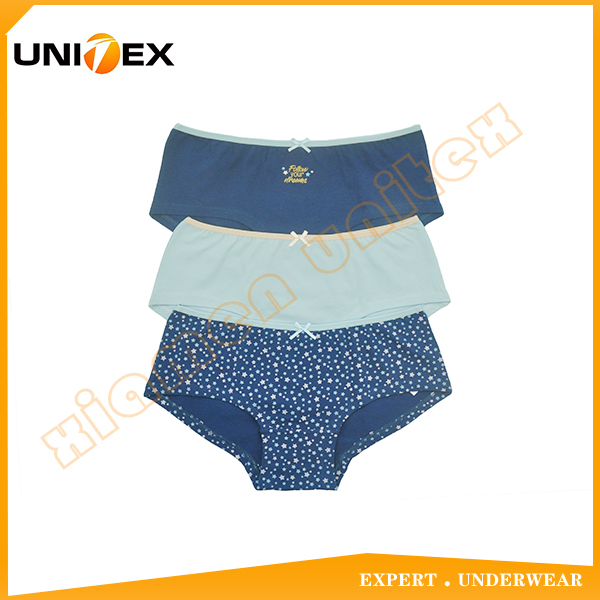 Anti-skid
Slip resistance is an important factor, especially for women who often wear tights. Due to their loose design, boxer briefs can have a tendency to slip when worn with tights or skirts, whereas briefs don't have this problem as they are fitted so they stay in place better.
Overall, a women's level of comfort in boxers and briefs varies from individual to individual, but in most cases, boxers are more comfortable than briefs, especially if movement is required. However, for women who need to wear intimate clothing, briefs may be a better choice.
In addition, women also need to consider their body shape and menstrual cycle when choosing underwear. For women with small stature or narrow pelvis, wearing boxer briefs can better cover the buttocks, reduce the gap in the pants, and avoid embarrassment when wearing tight pants; Unwanted creases may form around the waist and hips, detracting from the aesthetic.
In addition, women's menstrual cycle also needs to take into account the comfort of choosing underwear. During menstruation, women's private parts will be more sensitive, so it is necessary to choose underwear that is comfortable, breathable, and not easy to scratch. For those women who are prone to infection, it may be more suitable to choose cotton boxer briefs with soft fabric and good air permeability.
To sum up, the comfort and adaptability of womens wearing boxer briefs and briefs vary from person to person, and they need to choose according to their body shape, menstrual cycle and personal preferences. But generally speaking, boxer briefs are more dominant in terms of comfort and breathability, while briefs are better in terms of slip resistance and adaptability. Therefore, when choosing underwear, it is necessary to make a suitable choice according to different occasions and needs to ensure comfort and health.
At Unitex, we create a range of boxer briefs for women, with dozens of whimsical, fabulous and totally desirable prints for all customized boxer shorts and custom breathable underwear. Express the real you with cute clothes that you can hide under other equally cute clothes in public.
The Unitex Women's Boxer Brief features a seamless back and sides for all-day, every-day comfort. It's so comfortable you'll forget you're wearing underwear. Plus, soft modal fabrics are a great choice no matter what you plan to do with your day.
Elevate your current underwear standards with the custom lightweight and breathable women's boxer briefs from Unitex.
Xiamen Unitex Trade CO.,LTD.
Website: www.unitexunderwear.com
E-mail: [email protected]
Tel: 0086-186 5081 3853
CONTACT US


Xiamen Unitex Trade Co., Ltd.
We are always providing our customers with reliable products and considerate services.
If you would like to keep touch with us directly, please go to contact us