The Manufacturing Process: From Yarn to Your Underwear!
By:Teresa Zhang
Date:2022/08/03
When we want a new piece of clothing in our daily life, we just need to go to the mall to choose from the dazzling array of styles. Now, through online shopping, we can even have new clothes delivered to our door without leaving home and with the touch of a finger. So, do you guys know how a piece of underwear is produced? What did the pure white cotton go through to become a piece of beautiful and fashionable underwear? Let's explore the textile industry together and take a look at the whole process of producing a piece of underwear.
Want to know how the underwear is made?
It's more complicated than you might think!
The hidden stage behind our favorite underwear is so awesome that we wanted to share it with you here!
The production of Unitex underwear is divided into twelve stages.
Step 1: Knitting Fabric
The first step in our manufacturing process is knitting the grey fabric. In the knitting mill, the raw yarn delivered by the spinning mill is made into a package with a larger capacity. A certain amount of yarn is hung on a circular machine as required by the process design and a series of needles are used to turn them into fabric. After knitting, the grey fabric needs to be checked for quality by the grey fabric inspector according to the CNS inspection standard.
Step 2: Dye the Fabric
To achieve the perfect underwear shade, the fabric is then dyed. All dyes used by our manufacturers are low impact, fiber reactive and OEKO-TEX Standard 100 certified, which means they are better for workers, the planet and ultimately our customers.
Rolled colored fabrics of different colors are shipped from the fabric supplier to the production factory. The delivery cycle of the fabric is about 30 days (knitting, pre-shrunk, dyeing).
Step 3: Printing
Good design is the foundation of any favourite underwear, and that's where our unique patterns come in. Printing is the process of making dyes or paints form patterns on the fabric after the fabric is dyed with the base fabric. It is divided into flat screen printing, rotary screen printing, transfer printing, digital printing, etc.
The printing cycle is about 7-10 days.
Pattern design: The drawing of enlarging or reducing the standard pattern is called "pattern grading", also known as "push the gear".
Production preparation: Necessary inspection and testing of fabrics, accessories, sewing threads and other materials required for production, pre-shrinking and finishing of materials, sewing of samples and samples, etc.
Step 4: Loose Fabric
It can be understood as relaxing the fabric. The rolled fabric is tightly wound on the cylinder. This step is to restore the original elasticity of the fabric. Cycle: 2 days.
Step 5: Spread Fabric
Overlap the fabric and spread it out evenly to prepare for the next cutting, and also play the role of loosening the fabric. Period, 1 day.
Step 6: Cutting Process
According to the paper pattern, cut the fabric, lining and other materials into front pieces, back pieces, small crotches and other pieces according to the requirements of layout and marking, and also include layout, laying, counting, cutting, checking, numbering, bundling Wait. Period: 2 days.
Some cute girly panties, girl's boxer shorts, boys boxer briefs, children's boxer briefs, and custom logo boxers are printed with a small pattern, which requires a piece printing process. After the pieces are cut, they must be sent to the printing factory for printing. This cycle: 7 days to 10 days.
Step 7: Sewing Process
Through reasonable stitching, the garment pieces are combined into a technological process of underwear.
Men's underwear and women's underwear are different, so the sewing process is also different. Let's take a look at the sewing process of men's boxer briefs underwear, men's bikini briefs underwear, girl's shorts, women's bikini briefs and children underpant. This cycle: 7 days - 10 days.
1. Men's boxer briefs underwear
Sewing process: front opening piping → three-thread alignment front middle panel → three-thread patchwork front panel → double-needle front panel patchwork → four-thread sewing front and back trousers pieces → double-stitch hemming → three-thread fixing waistband elastic → Double needle sewing waist elastic → single needle sewing care label.
2. Men's bikini briefs underwear
Sewing process: three-thread alignment of the front and middle pieces → single needle fixed front piece → five-thread sewing the front piece → four-thread sewing the front and back trousers pieces, over lock one side seam → three-thread sewing the elastic band → over lock the other side seam → cover stitch leg opening → Three-needle sewing waist elastic band → single needle sewing care label.
Sewing process: single needle sewing care label → four-thread sewing front and back and crotch trousers pieces → over lock one side seam → double needle with cut sewing elastic band → cover stitch sewing leg opening → bar tacks.
Sewing process: single needle sewing care label → four-thread sewing front and back and crotch trousers pieces → double needle with cut sewing leg opening → over lock one side seam → double needle with cut sewing waist elastic band → bar tacks.
a. With double needle elastic technology, it is soft and does not restrain the waist.
b. The super-fine needle in the middle, the high elastic freedom is more comfortable.
c. The crotch adopts four-needle six-thread for firmer and more comfortable seamless stitching.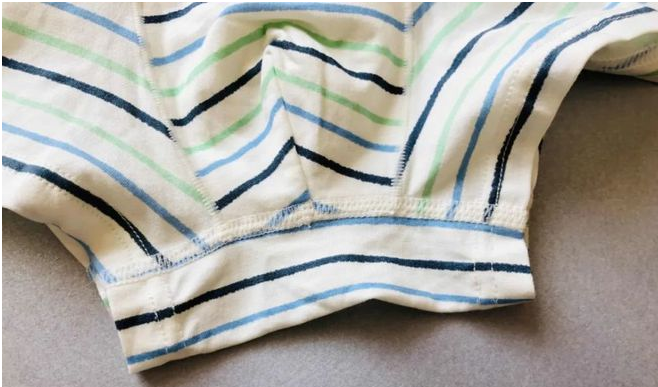 d. The legs are still double-stitched to ensure lateral stretching and more freedom.
Therefore, with such careful craftsmanship, coupled with every inch of meticulous lathe routing, how can children not love to wear them.
Step 8: Ironing Process
After the underwear is made, it is ironed to achieve the desired shape and make it beautiful.
This cycle: 2 days.
Step 9: Quality Control
Quality inspections are carried out for the quality problems that arise and may arise during the processing of underwear, and necessary quality inspection standards and regulations are formulated.
This cycle: 3-5 days.
Post-processing:
Post-processing, including packaging, storage and transportation, is the last process in the entire production process.
Step 10: Packaging
According to the customer's packaging requirements, some 1 piece with 1 hanger plus 1 plastic bag, some 3 pieces with 1 paper card, some 1 piece into 1 carton box, 3 pieces into 1 plastic bag, etc. are packed into bags.
This cycle: 5-7 days.
Step 11: Needle Dectect
All panties go through a needle inspection before being boxed. In order to ensure safety, the underwear will undergo two inspection processes on the needle inspection, one machine needle inspection, and finally the manual inspection will be performed again, just to ensure its safety and allow consumers to wear underwear with peace of mind.
Step 12: Packing
Packing box number and count the number of boxes to be stored in the warehouse, and packed according to the customer's delivery time.
Xiamen Unitex Trade CO.,LTD.
Website: www.unitexunderwear.com
E-mail: [email protected]
Tel: 0086-186 5081 3853
CONTACT US


Xiamen Unitex Trade Co., Ltd.
We are always providing our customers with reliable products and considerate services.
If you would like to keep touch with us directly, please go to contact us